WELCOME

TO
BAIRD
PEDIATRICS!


We are a Pediatric Medical Clinic in Burleson, TX providing care to patients from birth to 18 years of age.
ADHD
ADHD Diagnosis and Treatment
Well Child Exams
including Immunizations
Sick Visits


We do our best to accommodate same day appointments.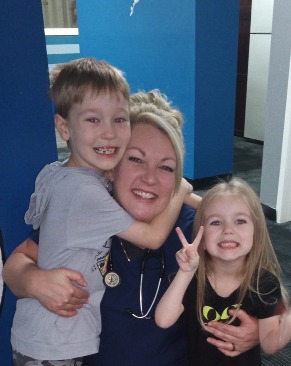 Dr. Baird has been a practicing Pediatrician for over ten years. She obtained her M.D. from the University of Oklahoma School of Medicine and completed her Pediatric residency through the University of Oklahoma School of Community Medicine. She has experience as a General Pediatrician and in the Urgent Care/ER setting. She has been practicing in Burleson, TX since 2016 but most recently opened her own practice here at Baird Pediatrics.
Dr. Baird has 3 children, ages 12, 9, and 4 years old. She is passionate about keeping kids healthy and helping parents navigate through the many different stages of parenthood.
Office Manager
Rusty graduated from the University of Texas with a Bachelor of Science degree. He has experience managing a state office with government employees. He has a criminal justice professional background, but he has a passion for kids and all the behind-the-scenes work that goes into running a successful Pediatric practice. He can be seen greeting you at the front office, answering phones, and is the person to talk to with any billing or operational questions.
Nurse Manager
Amber has been working as a Pediatric nurse for over 10 years. She started out as a firefighter EMT and then progressed on to obtain her LVN. She has worked in General Pediatrics, Urology, and in Pediatric Urgent Cares. She has most recently served as the Clinical Nurse Supervisor at Cook Childrens before joining us here at Baird Pediatrics. She has always been passionate about providing top of the line care to children of all ages. She is amazing at distracting children and making them laugh while giving immunizations and performing necessary testing for accurate diagnosis.
Dawn Waldrep
P. C. T.
Dawn is our patient care technician. She is so excited to be providing the best care to children of all ages! You will also see her at the front desk answering phones, taking payments, and answering any questions you may have.
Prices for Common Services
These are Cash Pay prices for all services here at Baird Pediatrics. Please note that if you have insurance then the insurance company determines the cost and reimbursement of all these services. Therefore, these prices only apply to patients who will be paying with cash instead of using insurance. If we are not contracted with your insurance company then you may pay these fees for service and then submit your own claim to the insurance company to be reimbursed. Many insurance companies will fully reimburse you or at least apply the money out of pocket to your deductible.
Immunizations are covered by most insurance companies. If you do not have insurance or if your insurance does not cover vaccines then you may qualify for the state vaccines at a rate of $14 per vaccine.
Well Child Exam- $100
Acute Sick Visit- $75

ADHD Initial Visit- $100
(includes diagnosis and establishment of treatment)
ADHD Follow-up Visit- $75
(every 3 months if prescribed a stimulant medication)
Ear Piercing - $35 for medical plastic earrings, $40 for titanium earrings


Coming soon: Needle-free Allergy Testing and Immunotherapy
---
List of Services
Well Child Checks
Sports Physicals
Daycare/ school/ camp physicals
Immunizations
Developmental screening
ADHD diagnosis and management
Asthma
Allergies
Newborn care
Medical Ear Piercing
Allergy Testing and Immunotherapy (Coming soon!)
Insurances Accepted
Aetna POS I and II
BCBS PPO and HMO
ChoiceCare
Christian Care Ministry Plan
Cigna
PHCS
FedMed
Galaxy Health Network
HealthSmart
Independent Medical Systems
Molina
PlanVista
Texas Bluebonnet
Texas Health Aetna
Tricare East
United Healthcare
Birth Hepatitis B MMR- Measles, Mumps, Rubella
2 months Prevnar 13, Dtap, HIB, IPV, Rotavirus, Hepatitis B HIB- Haemophilus Influenzae type B
4 months Prevnar 13, Dtap, HIB, IPV, Rotavirus IPV- Polio
6 months Prevnar, Dtap, HIB, IPV, Rotavirus, Hepatitis B DTaP, TdaP- Diptheria, Tetanus, Pertussis
12 months MMR, Varicella, Hepatitis A Prevnar- Pneumococcal
15 months Dtap, HIB, Prevnar 13 MCV- Menactra (Menigococcal)
18 months Hepatitis A Gardasil- HPV vaccine
4 years Dtap, IPV, MMR, Varicella
11 years Tdap, MCV, Gardasil
This is the vaccine schedule that our clinic has adopted. It is in accordance with the recommendations from the CDC and the American Academy of Pediatrics.
I have been taking my kids to Dr. Baird for the past 4 years and will continue to use her for my children's medical needs. The new office is spacious and the dr Seuss theme makes it a fun atmosphere for the kids. She takes the time to answer my questions and makes my kids feel comfortable. Highly recommend this pediatrician♥️
-Molly Meuir

I can not speak highly enough about Dr.Baird! She has just started her own practice and is taking new patients. We seriously love her and her precious nurse. When Coy was new born and having so many breathing problems they were always on top of it! She has continued to care for the boys since. She is truly so kind and never belittles you when asking questions. (which I have had some pretty silly ones. Haha) She has blessed my family so much!

- Amanda Cook
If you are looking for a pediatric specialist Baird Pediatrics is the one, this Doctor and her staff are by far the best! They took great care of my angel Eleanor and will my son when he gets here! So happy for your buisness and it's own growth 💗💙 well deserved.

- Krysta Click
I want to say hands down pediatrician. Thank you for looking at my sweet Hudson today and for taking the time to talk to us and making us feel very comfortable! ❤️

-Alyssa Dlynne Johnson
Why do I love what I do? Every day that I come to work I get to experience the following:the sweet hugs from my patients (as shown in picture :)) the laughter and squeal from…
October 4, 2019
CONTACT US
For appointments or any questions you may contact us at 817-442-3040 or you can send an email to rr.bairdpediatrics@gmail.com.
We are located off of Wilshire Boulevard in Elks Plaza, and we are directly next to Antonio's Mexican Restaurant. You can park as if you are going to the restaurant, and go to the door that is to the right of the entrance to the restaurant. You should see our sign on that door and the clinic is right inside the entrance with a sign showing where to check in. The shopping center, Elks Plaza, makes an L and our inside suite is in the middle corner of that L.
FREQUENTLY ASKED QUESTIONS
CHECK OUT SOME OF OUR FREQUENTLY ASKED QUESTIONS. IF YOU HAVE MORE QUESTIONS, JUST CONTACT US.
1. When will my children need well child checks?
Newborn, 2 months, 4 months, 6 months, 9 months, 12 months, 15 months, 18 months, 24 months, and then once a year from 3 years -18 years
2. When will my child need immunizations?
Vaccines are due at birth, 2 months, 4 months, 6 months, 12 months, 15 months, 18 months, 4 years, 11 years
3. How do you diagnose ADHD?
We use Vanderbilt forms at this office to help with the diagnosis of ADHD. The parents fill out a form and each teacher fills out a form. Those forms are then scored by our office in order to help with the diagnosis. Not all cases are the same so there are times that we will need to do further testing to determine if your child has ADHD. Sometimes we will refer you to a center that does more in depth testing for learning disorders.
4. How much Tylenol (Acetaminophen) or Motrin (Ibuprofen) can I give to my child?
First, if your baby is under 3 months of age, please contact us before giving anything for fever because we will most likely want to see the baby first. For babies over 3 months of age, we determine the amount of medicine to give them by their weight. Here is a quick reference to dosage amounts.
Tylenol Infant Suspension (160mg/5ml) Tylenol Children's Suspension (160mg/5ml)
6-11 lbs 1.25 ml 36-47 lbs 7.5 ml
12-17lbs 2.5 ml 48-59 lbs 10 ml
18-23lbs 3.75 ml 60-71 lbs 12.5 ml
24-35lbs 5 ml 72-95 lbs 15 ml
Ibuprofe Infant Drops (50 mg/1.25ml) Ibuprofen Children's Suspension
(Only give after 6 months of age) 24-35 lbs 5 ml
12-17 lbs 1.25 ml 36-47 lbs 7.5 ml
18-23 lbs 1.875 ml 48-59 lbs 10 ml
60-71 lbs 12.5 ml
72-95 lbs 15 ml